Email Marketing on Black Friday: Plenty of Holiday Marketing Stats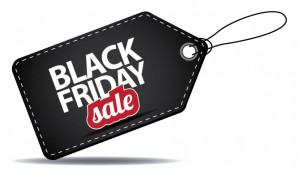 Attention email marketers: Black Friday and some of the busiest days on your marketing calendar is just weeks away! So grab some elastic-waist pants, and get ready to fill your plate with these email marketing staples, plus a few spoonfuls of seasonal advice.
Email marketing stakes are highest during the holiday season.
For brands like Brookstone, fourth quarter eCommerce represents more than half of all annual web sales. That's a pretty big chunk of pie. Despite losing ground in year-over-year Q4 web sales, Brookstone still raked in about 57 percent of its annual online sales during the final months of 2014. Likewise, LuLuLemon earned nearly 40 percent and Kohl's Inc. earned 42 percent of total online sales during Q4—to name just a few examples.
What's the takeaway? Emailing consumers at a time when they're eager to buy online is important…but not infallible. Here's why…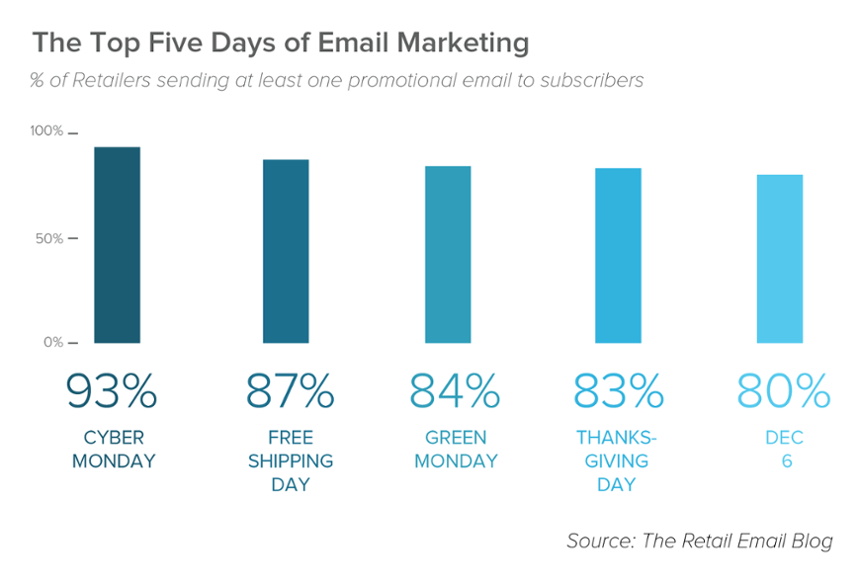 Snowballing email volume requires (or should require) permission.
Got a great email marketing campaign idea for the 12 Days of Christmas? Or a series of countdown emails that will introduce your Cyber Week promotions? We wish you a merry click-fest. Just remember that your subscribers didn't necessarily opt into daily emails from you or your affiliates. They certainly weren't expecting multiple emails on the same day.
If you are ramping up volume, you may want to create a separate opt-in form within your regular newsletter or website, inviting customers to receive more frequent holiday shout-outs. You should also remind affiliates about the need to download/update unsubscribe lists regularly. Opt-out list management has never been so important, since non-compliant companies can get punished with something much worse than coal.
Meanwhile, it wouldn't be a bad idea to optimize those holiday shout-outs for mobile. Because…
Mobile open rates indicate growing opportunities for success.
In November, Americans are hungry for an excuse—for any excuse—to leave the dinner table. Your email marketing campaign might just help them dodge another mind-numbing conversation about yams, or gravy boats, or Detroit's mediocre offense.
According to Movable Ink, nearly 67 percent of marketing emails sent on Thanksgiving Day 2014 were opened on smartphones. Compare that to the average mobile open rate for Q3/2013, which was only about 45 percent. This is why at least one e-commerce expert predicts that mobile devices will facilitate one-third (33 percent) of all 2015 fourth-quarter sales in the U.S.
In terms of email marketing, Black Friday performs better than Cyber Monday.
Don't wait until Cyber Monday (November 30, 2015) to start targeting your online consumers. Last year more brand emails were opened on Black Friday than Cyber Monday—38 percent more, to be exact—report major email providers. Paired with the data on mobile open rates, retailers might take this as a cue to sync email content, offer new sales and product and simply just promote with Black-Friday behaviors and in-store shopping needs (e.g. links to store coupons, door-buster deals, or physical product search apps).
During the holidays, inboxes get pretty bloated.
Turkeys aren't the only things getting stuffed this time of year. The average consumer's inbox becomes a glut of marketing missives, with roughly 93 percent of all eCommerce retailers sending at least one email on Cyber Monday.
To set yourself apart, choose your words wisely—especially in your subject lines. According to Vertical Response, the top five most effective words to use in holiday subject lines are:
• New
• Free
• Off
• Sale
• Now
Don't forget transactional emails.
You're online. Your customers are online. It's figgy pudding time, right? Not so fast. Just because you've created great content and guided your contacts to the right places, that doesn't mean your sales are ready for gift-wrapping.
Holiday shopping cart abandonment rates rose to about 88 percent in 2014, according to retail analysts. Transactional emails might have brought some of those shoppers back. Be sure your email program includes automated messages for incomplete purchases and post-purchase follow-ups.
As always, please share your comments or questions below! Happy Black Friday!